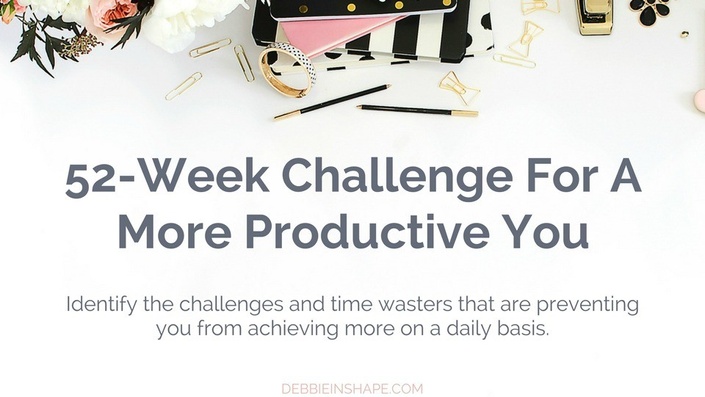 52-Week Challenge For A More Productive You
Identify the challenges and time wasters that are preventing you from achieving more on a daily basis.
What can you do in one year?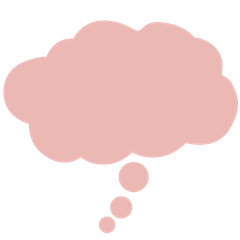 Some ideas are:
Start a new hobby

Change habits

Go on vacation

Make a scrapbook

Start exercising

Do volunteer work

Grow flowers

Find a new job

Write a book

Declutter your home
They all sound awesome ideas, right?
If only you had the time...
You:
feel overwhelmed and stressed out with your schedule

don't even have plans because you "know" you won't make it

care barely "survive" with your routine as-is

fear there isn't room for anything else in your life

have quit so many goals in the past you lost confidence in yourself
Besides, you have also:
read all the books

attended courses

tried different tools
They were helpful in the beginning.
But when life got in the way and, because of the lack of support afterwards, you lost motivation.
You realize you need:
a method that won't add even more pressure to your routine.

to be able to do the work during short breaks

accountability to stay on track and motivated

an affordable solution that won't break your budget
Wouldn't it be great if you had everything in one place?
Somewhere you'd go during your pauses to work on your personal development, boost your self-esteem, and recharge your batteries.
If that's your case, I have the PERFECT solution for you!
The 52-Week Challenge For A More Productive You includes
Lifetime access to the training
Once you sign-up, you get access to everything inside the hub and as well as future content
Classes and Q&A
On a weekly basis, you can join me Live for classes and Q&A. All replays will be available exclusively for participants.
Supportive community
Join other like-minded achievers who are serious about their personal development for accountability and mutual support.
ALL the tools
Not only you have exclusive tools within the challenge, participants receive access to my Library as well. In addition to tips on how to take most advantage of your favorite planners, apps, and software.
This course is closed for enrollment.
We have many Dreams and things that we want to accomplish, but instead of inspiring us, we feel suffocated.
I know very well how it goes because I spent years living the same routine over and over again hopelessly.
I wanted so much more for myself, but how could I make it all happen?
That's when I started to break down my Goals, Projects, and Tasks into realistic chunks.
Instead of spending my time mindlessly, I found ways to regain control of my life and make space for the things that are meaningful to me: my family, my health, and my career.
But identifying and overcoming not-so-obvious blocks didn't happen in a day.
Mainly when you're on your own, obstacles feel harder and it takes A LOT of trial and error to beat them.
This course is closed for enrollment.
After the 52 weeks, you will be able to
Overcome procrastination
Since you'll learn how to deal with different productivity killers, you'll find out YOUR reason for procrastinate. And because "knowledge is power", you'll develop better habits that will help you get the results you want timely.
Organize your time
One day at a time, you'll get clarity about your priorities. It'll allow you to plan your life better, personal and professional. You'll know all the tips and tricks you need to achieve more without working around the clock.
Free time
Thanks to your better time management, you'll make space in your schedule for the things you love. That old dream of learning photography or spending more time with your family will become a reality.
Manage stress better
With procrastination out of the way and more time in your hands, you'll have fewer reasons to feel stressed and overwhelmed. And when something happens outside your control, you'll know how to manage it better.
Feel more confident
There's nothing better to our self-esteem than the feeling of accomplishment. Whether it's an important project or your kid's birthday party, knowing you got it all done timely will recharge the batteries of your confidence.
Boost your efficiency
With chaos behind your back, you'll have more structure in your life. Because you'll identify and eliminate the things that don't serve you anymore, you'll have more energy and time to work on what truly matters to you and brings you closer to your goals.
Be more successful
True success is about happiness, fulfillment, and well-being. It can only be achieved if you, as a whole, love yourself and your life. Whatever your ultimate goal is, after the challenge you'll have everything you need to achieve it.
This course is closed for enrollment.
Throughout the challenge, I'll guide through the different productivity killers using my methodology, Mindful Planning™.
Measure your current status
Analyze your personal blocks
Prioritize quick-wins
Focus on customized solutions
Systematize your going-forward approach
This is the exact same method I use to achieve my Goals and with my clients.
The 52-Week Challenge For A More Productive You is the roadmap that will help you get from where you are to a more fulfilling and joyful lifestyle.
This course is closed for enrollment.
Besides all the tools and assistance you'll need, you also receive
Facebook Messenger
While you're in the program, in addition to posting your questions on the hub, you can also contact me through Facebook.
Affiliate program
Love the challenge and want to spread word about? Not only you can (and should), but you'll also be rewarded for it. The more friends you bring to join you, the greater the rewards.
Special offers
Participants of the challenge receive special discounts to my products and services on a regular basis.
This course is closed for enrollment.
How incredible will it be when you look back and see how much you achieved in one year?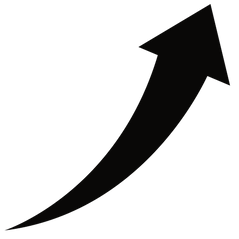 This course is closed for enrollment.
What are you waiting for?
Join the 52-Week Challenge For A More Productive You today and start improving your confidence and productivity for success!
Your Instructor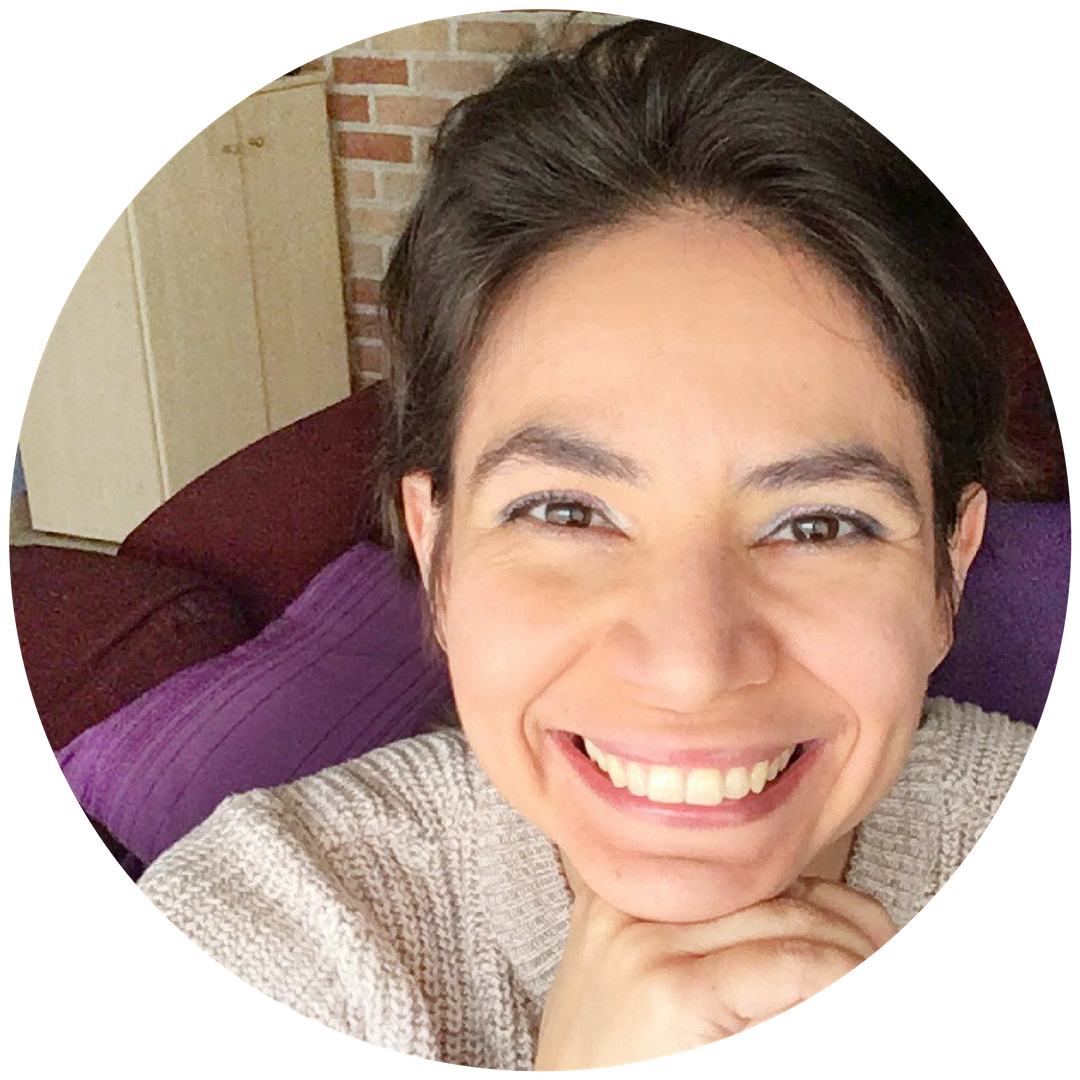 After allowing myself to go with the flow and keep my Dreams in the drawer for years, the diagnose of brain tumor made me realize I was wasting my most precious gift: LIFE.
It was when I decided to regain control of my time to make room for the things and people that mattered to me.
Now, I'm here to share my passion for planning, productivity, and helping people to show you how you can also master your schedule to develop a fulfilling and meaningful lifestyle.
This course is closed for enrollment.
Frequently Asked Questions
When does the challenge start and finish?
The challenge starts now and doesn't have an end date! While it lasts 52 weeks, every year, new material is added to help you overcome your productivity killers. You can start at any time.
How long do I have access to the challenge?
How does lifetime access sound? After enrolling, you have unlimited access to this course for as long as you like - across any and all devices you own.
What if I am unhappy with the challenge?
Unhappy?!? No way it'll happen! But if you decide to leave for whatever reason, you can cancel your monthly subscription at any time. If you cancel your subscription within the first 30 days after enrollment you're eligible to receive a full refund. NO refunds will be given after the 30-day trial period.
This course is closed for enrollment.